Posted by Darren Winsley - ECU Decode Limited on 21st Dec 2020
Prior to delving into our solution for a common failure in the immobiliser system for these cars lets look at some model history of the Chrysler Crossfire. This rear wheel drive sports car offers a 2-door convertible and 2-door fastback coupe, sold by Chrysler and built by Karmann of Germany for the 2004 to 2008 model years.
Developed during the union of Daimler and Chrysler, this two seater was based on the Mercedes-Benz R170 platform which shares 80% of its components with the first generation SLK320. The second generation Mercedes SLK was built on a new R171 platform starting in 2005.
Chrysler executed the interior and exterior styling which differs to the SLK. Many other elements of the car such as wheelbase, track, engine, transmission, chassis structure, suspension components, are shared with the R170 platform. An example of this is the engine bay of the Crossfire, which is virtually identical to the Mercedes-Benz SLK320 of the R170 platform. The seats from the Mercedes-Benz SLK320 will bolt directly into the Crossfire chassis. The dashboard layout, controls and instruments are also similar to those on the Mercedes-Benz SLK320.
The Mercedes power units are generally robust with general maintenance. The 3.2L, M112, E32, V6 power plant comes as a normally aspirated and a beefed up supercharged version with a choice of a 5-speed Mercedes 5G-Tronic automatic and 6-speed Chrysler NSG370 manual transmissions.
So there is some model insight, now down to the business end of how we can help you. The Mercedes SLK320 also shares a common failure with its Chrysler Crossfire sibling which in recent times has become a more significant problem because of unavailable new parts.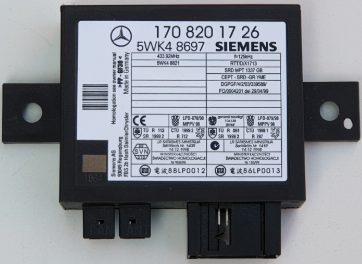 This box known as a Skreem by Chrysler and a DAS RFL by Mercedes, is a module which falls into the category of difficult to purchase or no longer available. We can help and offer a solution to over come the failure.
The common issue here is your Engine cranks and runs for a second or two then cuts out. This can happen a few times then you have no engine crank and fault code 2071, start enable signal not received shows up. If this is your only issue out of the blue, it will be an almost certainty the box above is your problem. We can pin point this as your problem on our test facility. To do this we need your Engine ECU, your key and immobiliser box.
Years of working on these boxes in a test environment we have concluded the problem in nearly all cases is corrupt software. We believe this fault is induced by battery voltage issues or internal hardware failures which renders the box as scrap. These units have two memory parts which work in tandem and contain software which is coded and uniquely built for each vehicles DNA. A simple analogy of these memory parts are two gears one of which has a broken tooth, if only it was this simple. To find broken bytes in these coded memories when they are never the same is not a task we can see a resolve to.
So, we have worked towards another solution of taking your cars DNA data and building this into another means to bypass the requirements of this immobiliser module. Our current charge for testing your components and carrying out the bypass work is £289 + vat and return delivery. Note, in cases where parts are being sent from over seas import tax will be added to your final invoice at the charge to us. Using the Royal Mail to deliver this side will reduce the return time because they invoice us on delivery, unlike couriers who some times don't present us with a final invoice for several days after delivery. We can not return goods until we have all costs, the same applies if you arrange couriers to deliver and collect. We will need confirmation from your courier in writing or email that there are no charges liable to us.
Our bypass can be applied to all engine modules using this 1708201726 immobiliser box.
If your having problems, lets identity a few things in the following check list before we start.
1: Does your issue fit the common failure ? Yes - Is a good starting point.
2: Does your remote keys still function ? Yes - This is great to, because after our work your alarm can still be activated using the remote key.
3: Is your vehicle history known ? Yes - Is great, however not an important factor as long as you have the skills to follow through on other issues which may have been induced in attempts to fix the vehicle previously.
If you want to proceed with a test or bypass, Email Us
IMPORTANT: After our bypass the engine could start with any key or a simple start button. You will need to add an aftermarket security system for protection if it is a legal requirement in your country.